The Truth About Organic Shampoo & If You Should Use It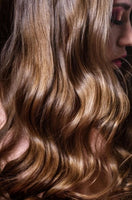 Your hair may seem healthy, or maybe it's super dry or over processed and Olaplex or Kerastase products fill your bathroom and empty your wallet. While the gorgeous, glossy hair you see on Instagram is achieved by hours of work and  professional hair stylists and high-end hair products, there is a way to achieve bouncy, voluminous hair that will repair damages and promote healthier strands – and it's taking the organic route!
Yes, seriously! Find out how a simple switch of your shampoo and conditioner can save your hair, make it super glossy, and Insta-worthy by reading below…
Step 1: Know Your Shampoo Ingredients
Fragrance, propylene glycol, ammonium lauryl sulfate, other SLS types, sodium chloride, and phthalates are commonly used ingredients in almost every shampoo brand. All of these ingredients cause damage and irritation to your scalp, plus can break your hair follicles and dry it out in some cases. It's misleading when you look at what ingredients can actually do to your body when you find out just what they are.
But when you decide to go the organic route, it's not just a trendy or hipster thing to do. No, you're really just helping yourself and your hair in the end!
Manuka honey has been scientifically researched and documented for its powerful properties in the field of medicine, but now also in skin care. Its level of benefits and natural components make this an ideal shampoo ingredient (no, we're not joking!). These nutrients include calcium, amino acids, manganese, magnesium, phosphorous, potassium, zinc, and a variety of B-vitamins.
The fact that hydrogen peroxide is a component in manuka honey may seem like an odd quality, especially for your hair. This is actually the quality that gives Manuka honey its antibiotic qualities and why it's such a hot item for the beauty industry right now. Nutrient levels can positively affect our body's interior health, but what else can it do for our hair and skin?
The Benefits for Your Hair & Scalp
Using Manuka honey benefits for hair in a form of Manuka honey shampoo and conditioner is an efficient way to gain hydration, definition, and even an amazing shine. Manuka honey benefits for hair are abundant in restoration properties that any hair type aims to achieve. Manuka honey actually contains protein, which can be used to heal and strengthen hair of all types.
Hair growth can benefit with Manuka honey's natural protein attributes as it boosts scalp health and strengthens individual strands of hair. The rich amount of antioxidants can also reverse scalp damage and simultaneously strengthen hair follicles. Manuka honey hair growth products actually work and have even more perks when combined with other natural substances.
Manuka honey shampoo and conditioner ingredients used together with Manuka honey hair growth products at Wild Naturals include aloe vera, coconut oil extract, and cehami flower extract. Using Manuka honey for hair products are safer alternatives to chemical infused, problem correcting products. And it's also a very gentle ingredient despite its powerful antibacterial properties!
Wash Your Hair the Natural Way
What goes into your body stays there and is distributed throughout it, including your scalp. This has been well known for hundreds of years, which shows by the development of skin care becoming more and more in demand. Natural skin care is slowly progressing towards the only type consumers will buy and for good reason. At Wild Naturals, there is nothing more important than creating skin care and hair care using natural, beneficial ingredients.
Straightening, coloring, blow-drying, curling, and even damage from chemical infused "hair" products will leave havoc on our locks. Treatment for damaged hair cannot be reversed by not doing anything at all. Using reputable products and products that work should be sought after when searching for Manuka honey for hair.
Hydration, hair growth, dandruff, and bacteria fighting, this honey has a serious gain in the beauty industry for both hair and scalp rejuvenation. As more people become aware of this natural healer for hair, skin and body benefits, Manuka honey look-a-likes are expanding throughout the industry. Using natural products from Wild Naturals will make a difference to truly rejuvenate your hair and skin for gorgeous photos and confidence on the daily!
Shop the Wild Naturals online store today for the best in natural products for your hair!