Dissecting the Ingredients Found in The Most Recommended Eczema Creams…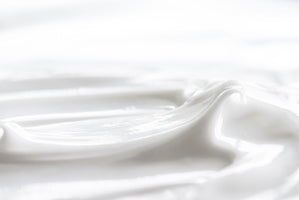 Eczema is no small skin condition to have to deal with and figuring out how to soothe it and get your skin healthier is a lifetime chore that we didn't ask for, but have to tackle. Plus, all the eczema creams your dermatologist or doctor recommends never seem to cut it, right? And having to go the prescription route or steroid creams…ugh, no thanks! It can get expensive and disheartening to find the right treatment for eczema – or does it have to be?
Keep reading to learn what the top eczema cream brands really do for your dry, triggered skin disease…
The Common Eczema Creams Unmasked
For as long as lotions and body creams have been around, everyone dealing with eczema has most likely tried them all. Even while the National Eczema Association promotes the use of steroid creams, as well as mineral oil and petroleum as the top choices for relief to eczema outbreak areas, these are actually the furthest thing you should be applying to your red, scaly, itchy skin!
To better understand what we're talking about, here a list of the most used and known types of eczema lotions and creams:
Eucerin Intensive Repair Very Dry Skin Lotion, it contains mineral oil as the second ingredient.
Cetaphil Moisturizing Cream has petrolatum, more commonly called petroleum jelly as its second ingredient after water.
Nivea Essentially Enriched Body Lotion, mineral oil is the second ingredient listed on the label.
Aveeno Skin Relief Intense Moisture Repair Cream has petrolatum listed as the fourth ingredient.
Ives Nourish & Soothe Oatmeal & Shea Butter Body Lotion, has natural moisturizers like soybean oil, though not the best for treating eczema.
Aquaphor Healing Ointment uses its main, active ingredient petrolatum and its first inactive ingredient as mineral oil.
Though these have been the long-running brands and recommended creams through the years as workable for relieving eczema itching and dryness, they can actually cause more harm than good. You want to give your skin relief and hydration to soothe the problem areas, and these, unfortunately, can't do that. Why? We know you're waiting for that explanation.
Well, these "top" ingredients for eczema creams are actually occlusive agents and prevent moisture from penetrating your skin to allow hydration to reach into the epidermis and beyond! They can also block oxygen from entering your skin! So, imagine having such dry, itchy skin and your skin can't even breathe…no wonder your eczema patches never go away with these creams…
Now, open your mind to the possibility that the best solution for your eczema is really a natural course of treatment (we swear by it!).
The Benefit of Natural Skin Care for Eczema
When you think about using chemicals and harsh preservatives on your skin as a means to heal and soothe dry skin or rashes, you definitely pause and realize the absurdity of that idea. Most skincare creams and lotions are heavy with negative ingredients. Your hope lies in natural ingredients and natural skin care products!
Removing parabens, chemicals and mineral oil from skincare lines have seen a new transformation of products on the shelves. Most well-known brands are releasing new products advertising the full list of natural ingredients! Resorting back to Earth-grown ingredients such as flower extracts, nectars, seed oils, and plant-based will see your skin back to its baby soft and healthy state, and dramatically help reduce your eczema breakouts!
Wild Naturals Natural Eczema Products
Wild Naturals knows the struggles and rough times dealing with eczema. We created a whole line of eczema skincare products to help you find natural relief and healing from the rash. One of the most important products we offer is the Eczema & Psoriasis Body Wash. While most focus on lotions to aid in eczema relief, the team at Wild Naturals knows the importance of washing the body with nourishing and beneficial elements.
Soaps and other body washes typically tend to harm dry skin by stripping away natural oils and nutrients that your skin creates. It is even believed in the eczema community that harsh soaps are a serious contributor to eczema (and even psoriasis). Wild Naturals eczema body wash is pH balanced and filled with highly concentrated ingredients to boost your skin! And you can follow it up with our Eczema & Psoriasis Cream too, to further help rebuild your dry, damaged skin into a healthy, beautiful state again.
With key ingredients like aloe vera, not water like most products, manuka honey and cehami flower extract, these help to clean your skin without taking away moisture. These all have superior hydration properties, so your skin is left feeling soft and supported after cleaning it. When dealing with a skin problem like eczema, it's vital to take care of your skin with the best products.
Go to the Wild Naturals store and see for yourself why natural skin care is the right way to go about protecting and healing your skin.