Coconut Oil for Skin Care: Yay or Nay?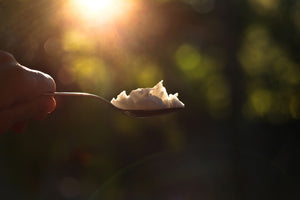 Originally touted as a be-all and end-all solution for practically every hair, skin, and diet woe, coconut oil has had its fair share of ups and downs. Some experts have been tapping the brakes (at least where the oil's dietary benefits are concerned), which begs the question: what about coconut oil for the skin? Just because some studies argue against its health benefits when consumed orally, must we really stop slathering the vitamin-rich elixir all over our bodies as well?
The answer: no, not necessarily. 
Coconut oil is good for your skin because of its natural antibacterial properties, but it may increase breakouts in acne-prone skin. Despite the controversy, the majority of the population loves and praises coconut oil for its all-natural ability to make our skin feel irresistibly supple, hydrated, and all-around radiant.
We also appreciate that coconut oil is one of the most accessible and least expensive items in our day-to-day routine. What's more, there are so many amazing ways to incorporate it into your beauty regimen...
What Is Coconut Oil?
We probably don't have to tell you coconut oil, which contains lauric acid, is the oil that is derived from coconuts—that much is self-evident. But it's the components that make up coconut oil that is important to point out here. The lauric acid found in coconut oil can have antimicrobial properties, which can help kill bacteria on the skin and reduce inflammation. Additionally, coconut oil contains high levels of linoleic acid, an unsaturated omega-6 fatty acid, which can be used as an emollient and skin soother.
Benefits of Coconut Oil for Skin
It's antibacterial: The lauric acid found in coconut oil gives it antimicrobial properties to kill bacteria on the skin and reduce inflammation.
Exfoliates: Coconut oil also helps exfoliate the outer layer of dead skin cells, making your skin smoother.
Acts as a makeup remover: Coconut oil is also a brilliant and effective way to wipe away makeup after a long day. Not only does the oil attract dirt and buildup, and as mentioned above, it's also a natural antibacterial and anti-yeast agent.
Plumps the skin: A quality coconut oil is a wonderful all-natural 'anti-aging' moisturizer when applied topically.
Reduces the appearance of lines: When absorbed into your skin and connective tissues, coconut oil helps to reduce the appearance of fine lines and wrinkles by helping to keep your connective tissues strong and supple.
Smoothes the skin: For beauty, coconut oil is rich in medium-chain fatty acids, which helps retain the moisture content of your skin while helping it look and feel silky smooth.
Eases inflammation: According to a 2019 study, virgin coconut oil was found to suppress inflammatory markers and protect the skin by enhancing skin barrier function. However, this test was done in vitro, so more research needs to be done.
Locks in moisture: Extra virgin coconut oil was found to significantly reduce levels of transepidermal water loss (TEWL) and increase skin surface lipid levels.
Who Should Use It
Anyone looking to moisturize skin can benefit from using coconut oil. It's generally safe for most skin types. The exception: congested or acne prone skin. (More on this later.)
Side Effects of Coconut Oil
Unless your skin is especially prone to congestion and pesky breakouts, coconut oil can do wonders for the skin, thanks to its robustly nutrient-dense makeup. However, if your pores tend to clog easily and blackheads are the bane of your existence, you might want to avoid coconut oil, which is heavy and regarded as one of the more comedogenic oils on the market (i.e. it's more likely to prompt a pimple or two). Or, apply it exclusively to your body parts, which have far fewer oil glands than the face and scalp.
If you don't have breakout-prone skin, coconut oil is fine to use as a part of your daily skin care routine. If your skin is on the congested side, try reaching for other oils like calendula, hemp seed, rosehip, or carrot seed oil, which may be less likely to cause breakouts in oily skin types. However, it is important to note that those with sensitive or eczema-prone skin may be irritated by these plant-based oils.
How to Use Coconut Oil
If you're looking to streamline your beauty and skincare routine (and keep it gloriously au naturel), try reaching for coconut oil instead of your go-to facial moisturizer or body lotion. The oil is the quintessential multitasker—thus, perfect for those who don't want to spend a lot of time getting ready.
As with anything we apply to our skin, quality is key. Low-quality coconut oil can be highly processed (and possibly contaminated), which can lead to breakouts and other skin irritations. To be safe, it's recommended sticking to a certain formula when making your selection: a helpful tip is to only use purified, cold-pressed coconut oil in liquid form.
If you wear a lot of product, consider using the double-cleanse tactic and repeat the above steps to ensure every last trace of foundation and mascara has been completely melted away.
To use the oil as a makeup remover, simply rub it into your palms to warm and liquefy, then start massaging it into your complexion, slowly dissolving the post-workday grime. To finish, rinse with warm water and pat dry. When it comes to products containing coconut oil, however, there's nowhere else to turn but Wild Naturals! Shop the online store today for natural skin care with just the right amount of coconut oil to help your skin glow and stay clear!