What Can Men with Psoriasis Use for Itch Relief?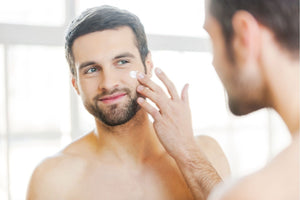 There is a lot of attention put on psoriasis for women, but why not men too? Men suffer only slightly less from this genetic skin condition as the opposite sex, much to the surprise of many. While this autoimmune disease can be frustrating to live with, men can have a more difficult time with it as they tend to be not as skin care savvy as women.
However, while men dealing with psoriasis don't always seek treatment until later on in the development of it, manuka honey for psoriasis can be the ultimate game changer for them. Let's see why...
Manuka Honey for Psoriasis
Research studies have shown that psoriasis is more common in men than it is for women. The problem with men having psoriasis is that trips to the dermatologist are not the first solution they think of when the skin condition presents itself. The build-up of skin cells and immune deficiency linked with causing psoriasis can be more cumbersome to males for their lack of know-how on treatment.
While some men keep a moisturizing lotion handy in their bathroom, that's not always the case. That's why manuka honey on psoriasis is considered an easy fix for men. It may seem odd to apply a honey to the skin, but manuka honey has become a revolutionary ingredient in skin care for both sexes. Manuka honey on psoriasis, and eczema as well is growing as one of the best treatments to use on it.
How Can a Honey Help a Skin Disease?
Manuka honey has the highest properties of antibacterial methylglyoxal (MG). This is found in most types of honey, but only in small quantities. Manuka honey has nearly 100 times more MG than other honey's, making it the best for treating bacteria, germs, and other agents in the body. Because of this and it's anti-inflammatory properties, manuka honey is a gem for battered skin types.
Using manuka honey skin care products have plenty of benefits, including for men, such as:
Manuka honey shampoo & conditioner, ideal for scalp psoriasis
Rich in vitamins, minerals, and amino acids, plus antioxidants work to repair and heal your skin by activating cell regeneration and collagen production
Intensely moisturizing, manuka honey can draw moisture from the air into the skin to hydrate badly parched skin to help soothe and nourish
Anti-inflammatory elements in it help to reduce inflammation which can trigger psoriasis
Antibacterial levels combat bacteria growth and element debris, free radicals, and bacteria that can produce acne and worsen open sores from eczema and psoriasis
One of the biggest issues for people with psoriasis is discovering the triggers. There are many factors that can trigger psoriasis flare-ups and some of the known main triggers are harsh soaps, fragrances, stress, certain foods, and environmental stressors like heat or allergies. Finding a skin care line that can help eliminate several of these triggers can be time-consuming and difficult – if you don't have the guidance.
Wild Naturals Eczema & Psoriasis Skin Care Line
At Wild Naturals, a full line of eczema and psoriasis products exists to treat and heal troubled skin from these conditions. Each product was developed with the purpose of soothing, reducing inflammation and repairing damaged skin caused by these diseases. Without using soap, fragrances, parabens, phthalates, mineral oil, petrolatum, or preservatives, this skin care line works to help your skin, not make it worse.
A full list of natural ingredients adds extra nourishing power, including coconut oil, shea butter, aloe vera, cehami flower extract, and blue green algae. Each of these has benefits for hydrating, healing, and boosting the skin's natural regenerating process to fix scarring and scaly areas over time!
For men with psoriasis, it's an easy and fast skin care routine that will make triggers and life with psoriasis much more livable. Shop the online store today and see the relief your skill will have from Wild naturals!