How Plant-Based Skin Care is Paving the Future of Beauty Products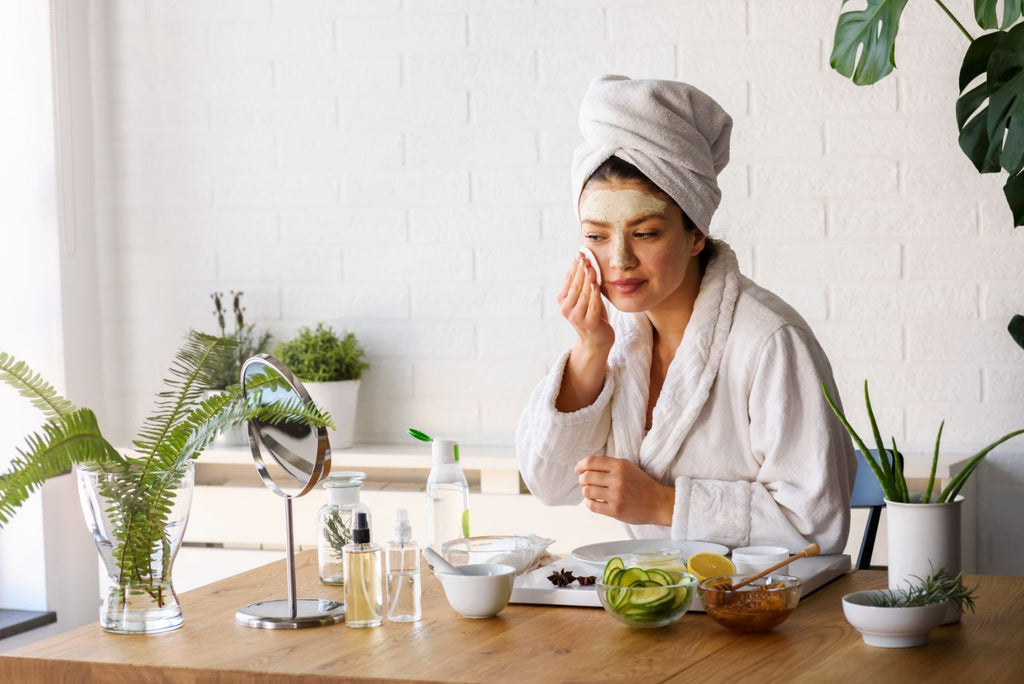 Food is the new gateway to health prevention and treatment. Instead of pills, people are choosing natural tonics and elixirs. Instead of chemicals, people are choosing food regimens and natural supplements. This is not to say that modern medicinal treatments aren't effective or necessary, but simply to highlight that combining natural elements into the medical conversation is an important part of the puzzle.
So, it's a logical progression that we are looking to incorporate natural products for surface treatment plans as well.
With edible beauty products taking an upswing in popularity, it seemed like it would be a good time to get the down and dirty on the best products that you could use in your own kitchen!
What are Edible Beauty Products?
Plant-based foods are not only nourishing, but many natural face masks, soaps, and skin rubs have been found to be incredibly effective for treating skin conditions. Home-made beauty products not only give you the power to avoid harmful toxins and chemicals, but they can also save you money on expensive face masks or dermatology appointments. It doesn't mean you shouldn't stock your bathroom with skin care products, but that the occasional DIY mask is more than satisfactory!
With that said, if you decide to search for purchasable edible beauty products, make sure that the company you choose uses food-grade ingredients. Also, keep in mind that the products you purchase online may be all natural, but not necessarily edible. So, start a good practice of reading labels thoroughly!
5 Plant-Based Beauty Products
It's all about the right ingredients when it comes to DIY beauty products. After that, it's all about deciding what your skin and hair needs. Is your skin dry all the time or do you have dandruff? Stick to more moisturizing ingredients such as coconut oil or shea butter. On the other hand, is your skin and hair constantly oily? Try more absorbent ingredients such as clay and baking soda. Here are five favorite edible beauty products that you will hopefully fall in love with!
Spirulina
This is something everyone should have in their kitchen, even if they don't use it for edible beauty product recipes. Spirulina is a cyanobacteria algae collected from lakes in tropical climates. It is theorized that Spirulina is as one of the oldest life forms on Earth. On top of that, it's a superfood. Spirulina is a complete protein — containing all essential amino acids — and it's a source of "calcium, iron, magnesium, and vitamins A, E, and K" and a powerful antioxidant.
Some of its most powerful health benefits include anti-inflammatory properties, lowering cholesterol and triglycerides, reducing blood pressure, improving muscle strength, and it has been shown to help control blood sugar levels.
Due to it's antioxidant, antibacterial, and anti-inflammatory properties, spirulina is also a wonderful ingredient for skin care products, especially for those fighting inflammation caused skin irritation such as acne. There are a host of vegan ingredients that you can pare with spirulina for different effects.
For instance, a face mask combining spirulina with Manuka honey — antibacterial, antifungal, and anti-inflammatory — and ale vera — great for healing and softening skin. In order to make it 100 percent edible make sure to use food-grade aloe vera. Some DIY face mask products use clay, such as combining spirulina with apple cider vinegar — tones, removes dead skin cells, and reduces irritation — and a clay called bentonite — an absorbent clay that has shown to help reduce acne and facial swelling, fight eczema and psoriasis, and can even rebuild damaged tissue.
Raw Cacao
We all know chocolate, but how well do you know the main component, raw cacao?
Raw cacao is the essential rudimentary ingredient in all forms of chocolate. It is produced from the cacao or cacao bean. The bean is roasted and then ground to create raw cacao products, such as nibs and powder. Due to its high antioxidant content and anti-inflammatory characteristics, raw cacao has been shown as beneficial for immunity, nerve damage, and it protects the body from ultraviolet oxidative damage.
On top of that, raw cacao has positive nutritional values including low levels of sugar and calories, and trace amounts of dietary fiber, calcium, iron, magnesium, phosphorous, thiamine, niacin, riboflavin, and folate. Raw cacao also has trace amounts of vitamins B-6, E, and K.
Raw cacao is popularly used in face masks, lotions, and in shampoo due to its high levels of flavonoids which "increases blood flow to the skin's surface." When we think back to our hair 101, the health of your hair depends on blood flow stimulating the bulb. So, raw cacao might be the perfect thing!
Manuka Honey
Since it's already been mentioned multiple times about Manuka honey, there's a reason it pops up so much and has its own spot on the list.
Manuka honey is derived from the Manuka bush native to Australia and New Zealand. You may ask, why not buy regular raw honey, which happens to be a lot less expensive. There are a few reasons for this. Keeping a jar of Manuka honey in the kitchen is eco-friendlier, plus Manuka honey is way more potent than regular raw honey.
It has powerful anti-inflammatory, anti-bacterial, and anti-fungal properties, yet this wonderful ingredient is able to seek out unwanted bacteria and leave the healthy bacteria. If you're looking to pick out your own jar of Manuka honey, make sure to select the rawest form such as Wedderspoon's 100% Raw Manuka Honey or Kiva Certified UMF 20+ Raw Manuka Honey.
Due to its thick and granular consistency, Manuka honey makes a wonderful edible beauty product ingredient, in particular in scrubs and exfoliating products. A DIY Scrub with Manuka Honey combines the powerful benefits of Manuka honey with soft brown sugar, vitamin E oil, and your choice of essential oil.
You can also use Manuka honey as a face exfoliate. This is especially useful for acne sufferers as Manuka honey has been shown to fight acne symptoms. Manuka honey is a powerhouse natural ingredient and should be in both your kitchen and your skin care routine!
Avocado
Not only do avocados contain a lengthy list of healthy fats, protein, fiber, minerals, and vitamins, but they offer that creamy and rich treat at any point in the day. On top of that, they are one of the most popular raw food products used in DIY beauty products.
Avocados are naturally nourishing and moisturizing, making it a great ingredient for hair masks. Plus, due to high levels of antioxidants and essential fatty acids, avocados have been shown to help heal or prevent acne by reducing inflammation and aiding in healing broken skin, so they're also perfect for face masks.
Matcha Powder
Matcha powder is made from ground and pulverized green tea leaves. Basically, it's the powdered form of green tea. Yet, it's a lot more powerful. When you make green tea using leaves, the hot water absorbs some of the wonderful agents of the tea. When you use matcha powder, you are actually consuming those wonderful agents.
Matcha has been shown to have many health benefits including "protection against heart disease and cancer, as well as better blood sugar regulation, blood pressure reduction, and anti-aging" properties. This is mostly due to the high levels of antioxidants called EGCG and polyphenols, as well as vitamins, and minerals contained in Matcha powder.
Wild Naturals Plant Based Skin Care
For when you see the results of natural plant-based ingredients, you'll want to dash to stock your skin care products with them! Shop the online store for Manuka Honey rich products that will cover every skin care concern you have!