A Deep Dive On Hemp Seed Oil as a Skin Care Ingredient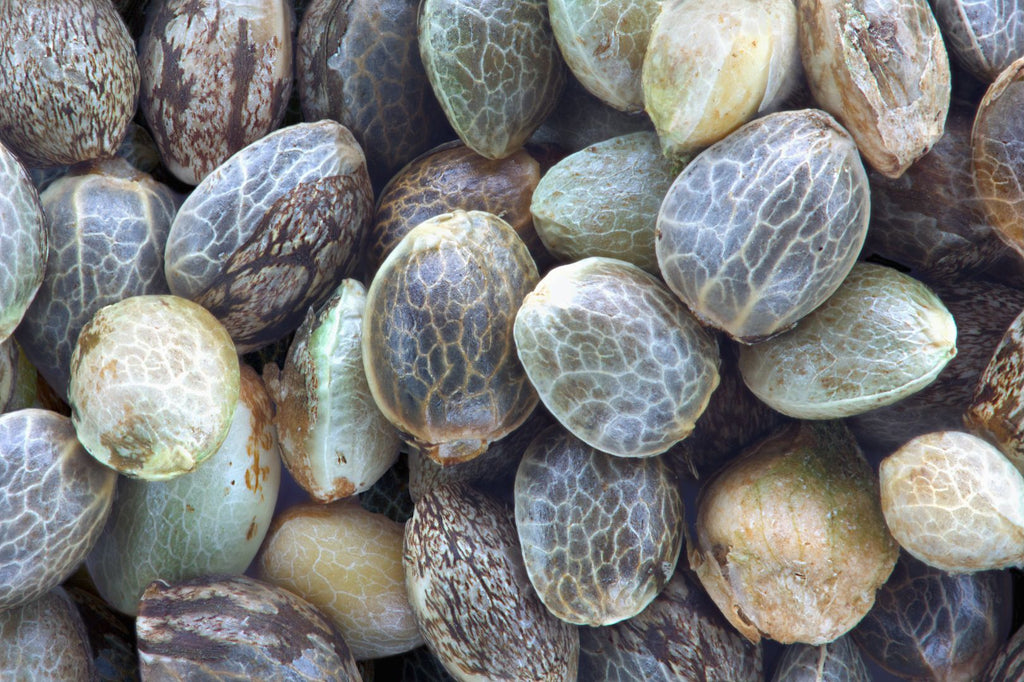 Hemp seed oil has hit the beauty industry by force in the last decade, with a sudden boom in products arriving on the shelf—all promoting hemp seed oil as a main ingredient. As an incredibly nourishing oil for skin on many levels, it plumps the look of your skin, firms and tightens your skin's appearance, and provides powerful antioxidant activity to help promote beautiful skin. In this article, we unearth the full benefits of hemp seed oil and why you're skin care routine should contain it!
What is Hemp Seed Oil?
The natural derivation of hemp seed oil comes from the seeds of the hemp plant, which is a variety of the Cannabis sativa plant species. You've probably heard of Cannabis as it relates to marijuana, but the species used to make the drug contains higher levels of the component "tetrahydrocannabinol (THC)," which is the component that contains psychoactive properties. Hemp seed oil does not contain this and is a far stretch from pertaining to that known association of the name Cannabis. In fact, the standard hemp plant has been used for centuries to make rope, clothes, food, paper, plastics, insulation, textiles, and more, while the seeds were eaten raw or ground into a meal.
In addition, the hemp seeds don't contain THC.
Another point of fact to be aware of is that cold pressed hemp seed oil is best. Cold pressed hemp seed oil is dark to light green with a nutty flavor. The refined oil is clear with little flavor, and also contains fewer skin-nourishing qualities. As with all oils, the cold pressed is the most healthful (a good note if you decide to use it for other aspects other than skin care!).
How Does Hemp Seed Oil Benefit the Skin?
As we mentioned, Hemp Seed Oil is full of elements that essentially act as food for your skin, leaving it nourished and healthy. Here's what that means as far as the look and feel of skin:
Plumps tired, dry skin: Rejuvenates the skin, creating a more youthful glow.

Provides-long lasting moisture: If your skin gets dry halfway through the day, you may want to try this oil, since continued use over time will help your skin's ability to retain moisture. This is wonderful for problematic skin conditions, such as eczema, psoriasis, rosacea, and more!

Balance Oily Skin: Because hemp seed oil doesn't clog pores, it's often thought to be the ideal moisturizer for skin that has suffered from these issues.

Skin calming: If you could use some relief from the feeling of some temporary skin irritation, such as dry skin from winter or dehydration, this may be the oil for you. Hemp seed oil is naturally calming and the moisture it provides combats temporary discomfort. If you're in a pinch, hemp seed oil can be your savior when thick lotions take too long to absorb.

Reduces the appearance of fine lines and wrinkles: Hemp seed oil can protect against different environmental factors while helping to reduce the appearance of fine lines and wrinkles! Natural oils are a large aspect in anti-aging benefits that most people wouldn't believe as true!

Suitable for all skin types: What do you do if your skin is just struggling? Maybe you have clogged pores or dryness all at once. Hemp seed oil is calming and soothing while providing just the right amount of moisture—perfect for irritated skin from eczema or psoriasis!
This oil's benefits don't stop just at the full protection of anti-aging properties. People with oily skin and clogged pores swear by it because it's moisturizing without adding to the problem; a situation that many with oily skin can vouch is always incredibly difficult for them. Those with sensitive skin love how gentle it is—widely tolerated by all skin types—and some even use it in their hair, because it's so naturally conditioning (hello natural DIY hair masks!).
Wild Naturals Hemp Seed Oil Products
When you shop for natural skin care brands, it can become rather confusing. Whereas some brands boast natural ingredients, their level of preservatives and ratio of potent highlighted ingredients are out of balance. At Wild Naturals, you'll receive the full breadth of natural and organic ingredients right at the top of the list! With manuka honey reigning supreme alongside coconut oil, shea butter, aloe vera, and more, your skin will benefit exponentially! Shop the online store today for your natural skin care products!