10 At Home Remedies for Scalp Psoriasis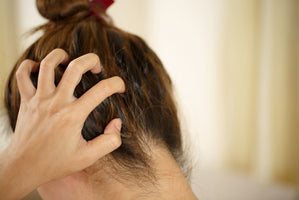 Psoriasis affects eight million people in this country and 125 million throughout the world. Scalp psoriasis is a type of psoriasis that affects the scalp and appears as flaking plaques. It can also spread to your forehead, the back of your neck, or behind and inside your ears. Some people may experience itching, burning, soreness, or discomfort. Ahead, we look into how to get rid of scalp psoriasis for good.
Home Remedies for Scalp Psoriasis
1. Soften Scales With Salicylic Acid-Based Shampoo
Salicylic acid acts as a keratolytic to help soften the scales and decrease the thickness of the plaques. Salicylic acid-based products, also known as scale softeners, are generally best to help soften and eliminate the scales. Daily washing of the hair can help to eliminate some of the dead skin.
You can also leave the salicylic-based product on to let it penetrate deep in areas where thicker plaques persist. Let it sit for up to 10 minutes before rinsing. If this proves ineffective in breaking down the scales, a board-certified dermatologist can prescribe a stronger concentration of salicylic acid for relief.
2. Reduce Yeast With Mild Anti-Dandruff Shampoo
In milder cases of scalp psoriasis, where thick plaques and scales are not as persistent, a dandruff shampoo with zinc pyrithione could be an option, which can help with scalp psoriasis in addition to seborrheic dermatitis, as it helps to reduce yeast on the scalp.  
Daily washing is crucial for people with scalp psoriasis. Finding a shampoo formula that you like is most important, as it is often recommended for those with psoriasis to wash their scalp daily or every other day. This helps eliminate excess build up of dead skin, which can worsen the flaking. When choosing a shampoo, consider that in general, it is best to avoid any products that may be irritating or drying on the scalp, but the specific type of formulation that is preferred may vary based on hair type. So it generally is a personal preference.
3. Treat Scalp With Witch Hazel
One of the most well known potential herbal treatments is witch hazel. To use, massage it directly onto scalp after washing. Continue to massage the area until the witch hazel is fully absorbed. From there, you can rinse you scalp and style your hair as you normally would.
Please note that home remedies and non-medicated treatments are best used on mild cases of scalp psoriasis to help ease discomfort and are not considered "proven cures."
4. Apply Aloe Vera to Scalp
The soothing properties of aloe vera cream can have some healing properties for people with mild to moderate scalp psoriasis. Aloe vera creams that contain 0.5 percent aloe can help reduce itching, inflammation, flaking, and redness on the scalp. This cream should be applied up to three times per day to keep skin moist. It may take up to a month to start feeling and seeing positive effects. Also note, it's a good idea to run your home remedy by your dermatologist before proceeding.
5. Try an Apple Cider Vinegar Rinse
A natural way to combat itchiness involves applying an apple cider vinegar rinse. Apple cider vinegar may help reduce itchiness associated with scalp psoriasis. Dilute the apple cider vinegar with water, apply to the scalp, and rinse the skin thoroughly to prevent irritation. You will be able to see results in several weeks. Use up to a few times per week.
6. Mix Tea Tree Oil Into Your Shampoo
Tea tree oil, due to its antioxidant properties, can be soothing to scalp psoriasis. You can try mixing psoriasis-friendly ingredients, such as apple cider vinegar or tea tree oil with your usual shampoo. This can serve as a gentle, homemade psoriasis remedy. However, this is usually only an effective measure in very mild presentations of scalp psoriasis. In addition to those listed above, look for ketoconazole and selenium sulfide to treat and soothe scalps.
7. Massage Coconut Oil Into Scalp
A coconut oil hair treatment might be one of the more indulgent ways of managing scalp psoriasis; plus, the healthy fats are known to boost skin health. Massage a few drops onto your scalp and put on a shower cap. Once the oil is on your scalp, set your timer for 20 minutes. After your time is up you may remove the cap and wash your hair as usual.
8. Avoid Scratching
Scalp treatments are important for people with scalp psoriasis to help eliminate some of the dead skin. Do note that any attempt to manually remove plaques is not recommended. It's also cautioned against picking off the scales, since it could actually trigger increased scaling and flaking. People with psoriasis can experience the koebner phenomenon, which describes a new plaque of psoriasis that can develop anytime the skin is injured or traumatized in some way. As much as possible, avoid scratching the scalp as not only can it make psoriasis worse, it can also lead to bleeding and possible hair loss.
9. Limit Your Use of Styling Tools
Be gentle when styling your hair, in order to avoid irritating the scalp. It is best to avoid tight hair styles, as pulling too tight on the scalp can lead to irritation. Additionally, curling irons, rollers, coloring, perming or relaxing your hair should be limited–especially if there is an active flare–as these can be irritating on the scalp. 
If you're concerned about concealing plaques, a low pony with added texture to hide irritation at the nape of your neck. You can add volume to down-dos by gently teasing strands at the root to conceal any scaliness behind the ears. If the hairline is typically your trouble zone, full or side-swept bangs can help hide redness.
10. Wild Naturals Psoriasis Hair Care
What you put on your scalp/skin is just as important as the different DIY methods. If you want to avoid steroid and prescription options for scalp psoriasis, then try changing your hair products! Even your face cream should be formulated to help help, hydrate, and nourish. Wild Naturals was curated for eczema and psoriasis, with natural ingredients to heal and repair your irritated, patchy skin. 
Shop the online store today for the best way to soothe your scalp psoriasis!