Why Shea Butter Continues to be a Skin Care Legend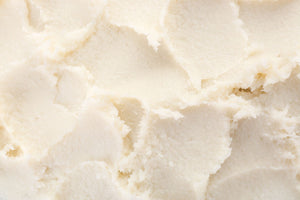 If you have dry skin, you probably know that shea butter is one of the top moisturizing ingredients to use. But that's just one reason why shea (pronounced shay) is frequently used in skin and hair care products. As an ingredient for skin care, especially in its natural and pure form, it has multiple benefits—from reducing premature facial lines and wrinkles to soothing skin conditions like eczema.
Below you'll find more information on shea butter's many benefits, as well as several homemade beauty recipes you can make using the miracle ingredient. Keep reading to learn more about shea butter's benefits for skin…
What is Shea Butter?
Shea butter is a plant lipid that comes from African shea tree nuts and is rich in fatty acids, antioxidants, and vitamins and is essentially a solid oil. Shea butter also contains five essential fatty acids (a major amount coming from stearic and oleic acids), phytosterols, vitamins E and D, allantoin (good for healing skin irritations), and vitamin A.
Benefits of Shea Butter for Skin
Hydrating: Shea Butter is great for hydration and calms the skin. It goes into the skin well and protects the face from extreme temperatures.
Plumps skin: Shea butter is used to help moisturize, nourish, and soothe the skin. It is great for dry skin and can create softer, hydrated, plumper skin, especially during the dry winter months. Shea butter is also found in many lip balms to help with chapped lips as well as moisturizers that help prevent stretch marks.
Helps fade scars both from acne and non-acne-related causes in addition to healing sunburned, cracked, and peeling skin. It soothes skin allergies like poison ivy and insect bites, as well as skin conditions like contact dermatitis and psoriasis. Some people have even reported that shea butter eases the symptoms of rheumatism (although this claim isn't proven, nor is it backed by our experts). Short of an allergic reaction, shea butter is also extremely safe—the Environmental Working Group classifies it as non-toxic.
The combination of components in shea butter also helps neutralize free radical damage, which may help reduce signs of aging.
How to Use It
Shea butter can be used on its own, but it's just as commonly used as an ingredient in cosmetics, so it's up to you how you use it. Although, shea butter is best incorporated into a moisturizer with other ingredients so it's easier to spread since it's usually a thick solid at room temperature.
If you're looking to use it on its own or make your own products, your best option is raw shea butter. Raw shea butter is meant to be rubbed on the skin as a method of moisturizing it and protecting the skin barrier. Refined shea butter included in something else (lipsticks, lip balms, body creams, body butters) is used as a moisturizing ingredient in those as well.
But for skin care products containing shea butter already, there's no where else you need to look than Wild Naturals!