The Ultimate Radiant Skin Care Routine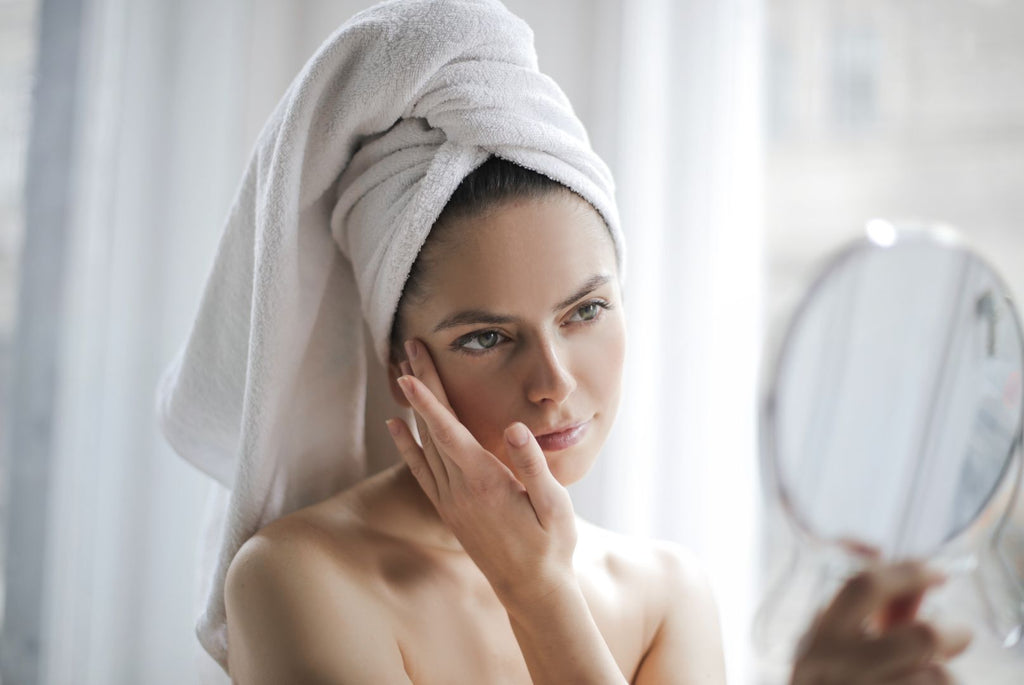 If you're looking to achieve that lit-from-within glow, it's time to change up your routine. Making a few simple swaps in your morning and nighttime regimen can make all the difference, taking you one step closer to the glowiness you're aiming for. But surprisingly, the results you've been looking for won't require slathering on a whole barrage of new products or spending hours in the bathroom.
In fact, it'll only require five simple steps when you wake up and before you head to bed to catch some ZZZs. As you can imagine, the real key is using the right products. To make the change as seamless as possible, we compiled the list and facts to find out what exactly you should be using.
AM Routine
Step 1: A Gentle Cleanser
An AM routine really begins with a PM routine the night before: making sure you have washed your face and cleared any gunk out of the skin before heading to bed. And when it comes to a morning routine, you'll want a way to gently cleanse without stripping or drying your skin. You should look at washing your face as the foundation of your skincare routine. The goal of cleansing is to remove soiling (like any dirt, gunk, or buildup) from the skin without compromising your skin barrier.
It's important to note that using the right cleanser and the temperature of your water can have a huge impact. Be cautious with overheated water as it may strip your skin of its natural oils, further damaging an already sensitive skin barrier. When it comes to washing your face the type of cleanser you use is crucial, so opt for something gentle like a water-based cleanser. 
Step 2: Vitamin C Serum
It's highly recommended applying a vitamin c serum as your next step. It's a very well-proven antioxidant that can help boost the effects of your sunscreen. Vitamin C can also help protect the skin against free radical damage from the environment and block the production of abnormal pigmentation.
Step 3: Eye Cream
After applying vitamin C, put on an eye cream. When skin is drier eye areas tend to get red, so I recommend utilizing an eye cream with vitamin K. You can also use this around your nose in the wintertime if you tend to get redness around your nostrils.
Step 4: A Lightweight Moisturizer
A lightweight moisturizer is best for all seasons except for winter if you tend to have dry skin then. 
Step 5: SPF
Every skincare routine needs SPF, and a radiant skincare routine is no exception. The last step in a morning routine is sunscreen. To make sure you're getting proper coverage, choose an SPF 30 or higher and re-apply every two hours. 
PM Routine
Step 1: Micellar Water or a Cleansing Balm
The first step in your nighttime routine should be the same as your morning routine: cleansing. However, in the evening, double cleansing is essential. Never wait until the last minute to wash your face or do your skincare routine at night—do it first thing. The first step is to always cleanse your skin and remove any makeup. 
Step 2: A Water-Based Cleanser
Follow up your first cleanse with a water-based cleanser to really ensure that any dirt, grime, residue, or leftover makeup is removed. Make sure to be cautious of the water temperature to help prevent potential dryness and irritation.
Step 3: Serums
Next, slather on the serums. Start with one to even out pigmentation. Evening out pigmentation can also give a more radiant appearance and may help brighten overall.
Apply retinol during this step since it helps fight the appearance of fine lines and wrinkles. It's important to look for a retinol formula that helps protect the skin barrier because, while retinol is effective, it can cause irritation and disrupt the skin barrier. 
Step 4: Eye Cream
As with any nightly routine, eye cream should be your next step. Apply eye cream around the eyes. In particular, alternate between prescription retinol and a lighter over-the-counter retinol eye cream.
Step 5: Moisturizer
To finish off your radiant routine, apply a thick coating of moisturizer. Allow the moisturizer to melt into my skin after application. You always want to protect the skin barrier and replace hydration, especially if you are using actives like retinol or hydroxy acids.
Skin Care for Your Radiant Routine
Now that you have the steps, maybe you don't have all the products you need. It can be overwhelming to search in stores or online for the right type of products that won't make you break out or your skin to react badly from. Wild Naturals has formulated skin care products featuring manuka honey to soothe, repair, nourish, and hydrate, all while having zero fragrance, preservatives, or harsh chemicals! Shop Wild Naturals today.