Taking Your Skin Care Routine From Winter to Spring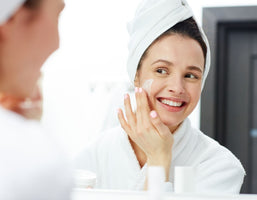 Are you ready for winter to be over? The groundhog didn't see his shadow, therefore instead of 6 more weeks of winter, we're well on our way to spring arriving! To get your skin ready for the new season, it's time to look at swapping out those heavy moisturizers for something more lightweight or natural to prepare your skin for spring. Let's take a look at what you should do to ease your skin care into the warmer season!
Your Skin's Current State
Do you have really dry skin after those months of winter frigidness and heat running at home? For an instant moisture boost to combat dryness, manuka honey should be your go-to ingredient. Its benefits are plenty and the versatility in itself makes it something to stock up on as your main product for your skin care routine!
To slough off dead skin cells and get extra moisture back in the skin, go for a hydrating skin care product with some form of exfoliation. Manuka honey has been known to cleanse the skin to kill off germs and bacteria, even the ones that cause acne!
Diet is important, too, to keep everything looking as good as possible, especially for combatting difficult skin problems like acne, eczema, and dryness. Incorporate a lot of nuts and seeds into your diet is always a good option, which also helps keep your hair, skin, and nails in great condition.
The biggest challenge in winter is dry skin, but there's a remedy, and that's to moisturize! Moisturizers are the biggest helper in your bathroom, although choosing the right one isn't as easy as running down to the drugstore for it. Find a moisturizer with humectants and ingredients known for being ultra-hydrating, like manuka honey, shea butter, and coconut oil. Adding in a serum for hydration is also an easy and added bonus for your skin care routine!
At night, switch to a heavier cream, and the key is to look for one with anti-aging benefits, as part of combatting wrinkles and fine lines to hydration to your skin cells! When treating winter skin, don't forget the eye area—it's the most delicate skin and is prone to wrinkles faster than any other part of our face!
The three best tips to remember for transitioning from winter to spring is: exfoliate, brighten and hydrate. That will help your skin being clearer, and your makeup will go on better. Choosing a cleanser that takes dead skin cells off, but can still be used for sensitive skin is a must. A lighter exfoliating cleanser means it's not one of those gritty exfoliators, which can be more harsh and damaging.
Exfoliation and rejuvenation are the keys to rescue winter skin and prepare it for spring. Of course, everyone's skin is different, and every treatment and product should be tailored to meet his or her needs. So, do you think your skin care products are up to par?
Wild Naturals Year Round Skin Care
Manuka honey uses are endless, no matter if you are using it for cleansing, exfoliating, brightening, or moisturizing! Not only are the results of manuka honey terrific, but the fact it's a natural ingredient is alone reason enough to be adding it to your skin care routine. Natural has made its way back to store shelves and for the best, especially if you want to keep your skin in tip-top shape after such a long winter.
At Wild Naturals, the key ingredient in every product is manuka honey, so that you can use it in an easier, less sticky way every day to continue its wonderful properties for your skin! With beneficial, Earth made ingredients like, shea butter, blue-green algae, coconut oil, hemp seed oil, and cehami flower extract, on top of manuka honey, these all have profound qualities that will have your skin healthy, moisturized, and glowing!
Visit the Wild Naturals shop today and try for yourself what we proudly offer with amazing results!