How Cehami Flower Extract Offers Majorly Calm Skin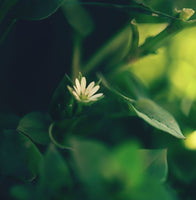 There are plenty of extracts in skin care that can be very beneficial for your skin. However, what about a flower extract that can heal, hydrate, regenerate cells for younger-looking skin, and soothe inflamed skin? Sounds too good to be true from one ingredient, right? Not with cehami extract! In this article, find out about all the wonders of cehami and just how potent it is for transforming your problematic skin into pure radiance!
What is Cehami Flower Extract?
You may be asking yourself what is this cehami extract and why have I never heard of it before? Is cehami extract actually a skin care ingredient? Yes, it is and it's one for the books with the marvels it can create for your face and body! Cehami extract is an entirely natural active plant extract derived from Centipeda Cunninghamii, a member of the daisy family and is indigenous to the Australian outback. Because of its remoteness, the popularity of cehami is not as well known as it should be.
Used for centuries by Australian Aborigines as a remedy for skin complaints and other ailments, cehami flower extract possesses potent anti-inflammatory and restorative properties. A daisy flower can do that? This one can! Cehami extract has been developed in natural skin care products to capture the powerful healing and soothing properties of this traditional herb. It has even been proven to reduce skin inflammation and increase cell regeneration!
Cehami Flower Extract for Eczema & Psoriasis
Do you have a skin condition like eczema or psoriasis? Then you should definitely be hopping on board with using cehami extract in your regimen for relief to the troublesome effects these skin problems cause! Eczema and psoriasis can irritate and inflame skin horribly when it flares up and cehami extract is the perfect ingredient to soothe and reduce them. It's incredibly hydrating, which is perfect for dry skin conditions. Another amazing benefit of cehami extract is that it's a natural analgesic, meaning instead of taking a pain killer like Tylenol to help with the severe itching and pain of eczema or psoriasis, it can create the same result naturally!
Wild Naturals Products Containing Cehami Flower Extract
While cehami flower extract is a potent ingredient to combat the frustrating effects of eczema and psoriasis, it's even stronger when added with other beneficial natural ingredients! At Wild Naturals, manuka honey is utilized as a key ingredient for every product because of its own long list of jam-packed benefits. When you have troubled skin, and just skin diseases, but acne, rosacea, dryness, redness, dark spots, and wrinkles, you'll want cehami and manuka honey to combat these together for the ultimate results!
Wild Naturals key ingredients include:
Aloe Vera: You'll notice that water is usually the first ingredient listed in skin care and hair care products. We replace water with aloe vera for a stronger liquid agent that can hydrate, help your skin ton, accelerate skin cell production, and is filled with vitamins, minerals, and essential enzymes!
Manuka Honey: It can hydrate, is an anti-inflammatory, antibacterial, heal burns/wounds, reduce acne scars, treat acne, soothe, and is filled with vitamins, minerals, and amino acids (meaning its anti-aging)!
Shea Butter: A traditional moisturizing ingredient that can also protect the skin, reduce scars, soften skin, reduce wrinkles, and boost skin regeneration and collagen production!
Coconut Oil: Highly moisturizing, aids skin's defenses against environmental stressors, and is anti-aging!
Carrot Seed Oil: A rich, nourishing ingredient filled with fatty acids, and can improve skin's firmness and elasticity, plus brimming with natural vitamin A!
Hemp Seed Oil: Rich in fatty acids, reduces skin redness, and helps the elasticity of the skin!
Cehami Flower Extract: Your one-way ticket to beautiful, healthy skin that is no longer red, inflames, or itchy!
Shop the Wild Naturals online store today to see the magical results of cehami flower extract and natural skin care at its best!